For many Alzheimer's dementia patients, an Assisted Living for Memory Care facility is the best option. These facilities are specifically structured to cater to their daily needs and support them in ways that can be difficult at home. Ongoing social engagement, a range of cognitive and physical therapies and an environment designed to encourage independent movement while still being safe, are a combination of things that most of us, as much as we want to, simply can't provide for our loved ones on our own.
It can be a challenge to find the right facility, but once you do, it can result in noticeable improvements in the physical and mental wellness of a dementia patient. They are likely to thrive and keep as healthy, functional, interactive and relaxed as possible, while also easing some of the load for those of us who love them.
The Benefits of Assisted Living for Memory Care
Assisted living memory care facilities are designed to maximize residents' independence while prioritizing safety. There are several stages of Alzheimer's dementia (seven, actually), progressing from mild, intermittent symptoms to constant and severe ones. An Alzheimer's care facility is set up to accommodate all stages of Alzheimer's dementia. The facility itself will be handicapped accessible, from common spaces to bathrooms (including showers), to seating arrangements, beds and so on. They'll be designed specifically to allow for easy navigation, and many will also provide a safe way for residents to access the outdoors. 
Though moving into a residence can be a challenging transition for your loved one, once they're settled in, they're in a place where they can move about safely and quite independently in the course of their day to day activities – with assistance provided when needed. This less constrained, more self-sufficient lifestyle can help dementia patients stay cognitively engaged with their environment, and those around them. 
Activities and Therapies for All Patients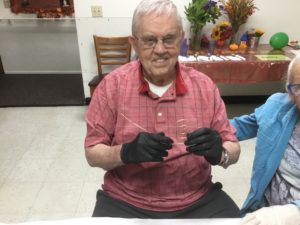 Memory care facilities provide leveled therapies and activities to address patients' individual needs and interests, at all levels of dementia.
At a memory care center, your loved one (whatever stage they're at) can benefit from ongoing socialization and as much engagement as they can partake in. Most memory care facilities will have certain therapies that they specialize in – art and music, for example. They'll employ professionals who specialize in these areas and the activities will be structured to cater to different levels of ability. Participants will be challenged, yet enabled to achieve success. 
Most of us are laymen when it comes to the science of dementia. Our best-intentioned attempts at therapy may go very well at times, but they may also create situations that are frustrating, or not challenging enough. This, of course, is hard not to take personally when we love each other, and it can lead to tension, physical and mental strain, and total exhaustion.
Speaking of Total Exhaustion . . .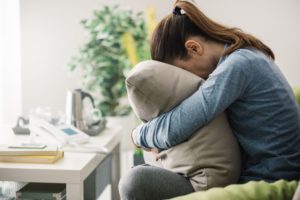 When you're the sole care giver (or one of a few) for a person with dementia, you must fulfill all provider roles as a one-woman (or a one-man) show. You'll constantly be juggling hats from chef and nutritionist to behavioral therapist to activity planner to doctor appointment scheduler to chauffeur to housekeeper (and then some). You're also responsible for daily hygiene and toileting needs, hiring and managing outside assistance – and, there's a pretty good chance you're also working full time. This is a huge load for any one (or a few) loved ones to handle well. Daily decisions and time constraints can cause friction and arguments among family members. 
On top of the stress among you, agitation and anger cues will be picked up on by your loved one. This can be confusing and upsetting, and detrimental to their dementia treatment. It also leaves very little time, if any, where you can be the thing you want to be most to them – a loving, caring friend.
Quality Time for Both of You 
At an assisted living facility, the above responsibilities become a team effort, delegated across a staff who have training and expertise in various realms of Alzheimer's care. You'll still be involved. Care and treatment decisions will be communicated with you and your input will be required and valued. But the hands-on tasks and constant frenzy of running around while trying to understand this debilitating illness, will be taken off your shoulders. 
When you visit and spend time with your loved one, it can be quality time – a little less stressful and a lot more enjoyable for everyone. This, too, is part of dementia treatment. Studies have shown that dementia patients' brains (and brains without dementia too) remain healthier when they're releasing more 'feel good' chemicals. So it seems that all who are living with, and loving someone with, Alzheimer's dementia, can be helped by just 'feeling' better.
Trusting the Professionals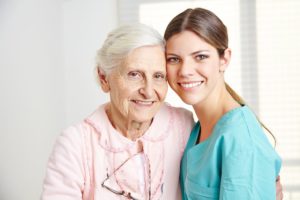 One of the hardest things about having a loved one with dementia is that we're so close to them and so used to 'who they were' that we're always adjusting to their ever-changing disabilities and personalities. Our emotional distress can make it hard to remain objective when it comes to managing their care.
At an assisted living facility, caring for dementia patients is the staff's full-time profession. They're interacting with dementia and its sufferers at all levels and every day. They're used to its peaks and valleys and tend not to take behavioral and functional changes personally. A well trained, dedicated memory care facility staff has 'seen it all'. They can remain objective and have a better ability to see the forest for the trees. They'll be more able to recognize and address changes in a patient's needs or status, without allowing their emotions to take the decision-making reigns. They can tailor activities and routines to meet the needs of each individual patient. It's what they do.
At Lakeside Manor, our priority is to provide a safe, friendly, comfortable home for people with Alzheimer's dementia. Our caring, professional staff offers years of combined experience and a genuine devotion to meeting the needs of our residents and those who love them. We hope you'll reach out to us with any questions you may have.