Because it is a less well-known service offered for elderly care, many people still often ask "what is assisted living?"
Assisted living bridges the gap between fully independent living and various levels of round-the-clock care. It gives seniors an opportunity to enjoy the benefits of living on their own without most of the restrictions necessary in facilities where residents have more affected capabilities.
In assisted living, residents live in apartment- or townhouse-style dwellings. Residents have access to three meals a day, social events, and other amenities. Many strive to resemble a resort or an apartment complex more than a senior living facility.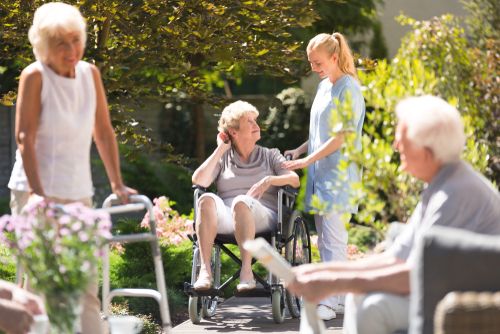 What Kind of Patient Thrives Best In Assisted Living?
Residents who do best in assisted living are those with some ability to live without supervision and the will to remain independent as long as possible. In some cases assisted living residents could live in their own homes, but have little or no support system of family or friends to check on them. They may choose assisted living for reasons of safety and security.
Other assisted living residents suffer from conditions that would make independent living unwise. These include chronic diseases, such as dementia, that cause slow degeneration of mental and/or physical abilities. In such cases, the individual can still live safely with less supervision, but requires that assistance be nearby in case of emergency.
Assisted living will occasionally require that residents retain the will to continue living independently. Most assisted living centers will not keep residents who lose their mobility, for example. The will to remain independent could manifest itself in a determination to stick to physical therapy routines that maintain mobility for the resident.
Many seniors resist the idea of assisted living because they confuse it with a nursing home. They fear losing their freedom, independence, and dignity, and they associate nursing homes with that loss. Most often, when seniors make the transition from independent to assisted living, they appreciate the enhanced safety and security, as well as the preserved independence.
Is Assisted Living Similar to a Nursing Home?
While assisted living and nursing homes share some common characteristics, they are distinct and different modes of senior living. A nursing home features constant care and supervision. Much like a hospital stay, nursing home residents receive more care and one-on-one attention, but they lack the privacy and independence of assisted living.
Different facilities will have different thresholds that separate assisted living from nursing home-type care. Those thresholds could include whether or not the patient can walk without assistance or use the toilet alone.
Why Is Assisted Living Better for Some Than Home Care?
In-home nursing care can serve as a great option for those who still retain a high level of independent function. It can especially help those in rural areas who live far from family, friends, and medical services.
Home health care does enable people to keep living on their own, but occasionally at a cost. Some lose connection with family, friends, and other social outlets. Others live in fear of intruders or other potential dangers, such as fire. It cannot help residents enjoy a healthy social life or live without anxiety.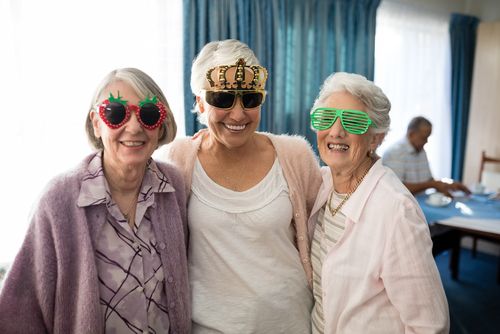 Benefits of Assisted Living Facilities
Assisted living facilities provide a range of benefits that help to keep seniors active, healthy, and safe.
First and foremost, residents enjoy a safer environment. Those living independently have to contend with a number of issues that could pose more challenges as time passes. Home and yard maintenance can become challenging when fixed incomes cannot afford help and they are no longer capable of doing for themselves. Even cleaning can become a serious problem. In such a situation, their homes and property could grow dangerous to habitation. Also, a neighborhood where a senior has lived all his or her life could grow unsafe with rising crime rates.
Assisted living can help ensure that residents get proper nutrition. In many cases, seniors struggle not only to get to a store, but also to be able to prepare nutritious food. Some fall into a rut of microwave meals that have high levels of sodium and other unhealthy ingredients. The lack of fresh and healthy food can take a real toll on their health and well-being.
One of the more traumatic changes that seniors have to accept at times is the loss of their ability to drive their own car. Automobiles symbolize independence, and losing a license can devastate a senior. It can also cut many off from shopping, entertainment, and other outdoor outlets of stimulation. While public transportation is available in some areas, it might not go to all of the locales desired. Seniors may also feel unsafe on a bus or subway. Assisted living facilities often use buses or shuttles to help seniors to attend church, shop, go out to eat, or see plays and concerts.
Also important, assisted living facilities provide ample opportunities for socialization. The stimulation provided by in-person socialization has benefits for both the body and the mind. Face-to-face contact during meals, games, or outings helps to introduce the kind of variety that can boost motivation and positive feeling.
Also, many facilities have disease-specific programs with expert staff who can treat residents with dementia/Alzheimers, diabetes, and other chronic conditions. Assisted living facilities can provide better care than even family because they understand the progression of the disease and its effects.
There are also Assisted Living facilities dedicated exclusively to Veterans. 
Reach Out Today to Learn More
If your loved one may be approaching a stage of life where he or she needs more help, please reach out to us today. Our experienced and caring staff are ready to answer any question about our facilities or programs.
We look forward to hearing from you. Even if you feel secure with you or your loved one living independently for now, it never hurts to call to get more information.