Making the decision to move your loved one into a San Diego Alzheimer's Assisted Living Facility is difficult. It takes a lot of research, time and effort to choose the right San Diego Memory Care Facility. To make sure your loved one gets all the care they need, like healthy meals, assistance getting to the bathroom and traveling to their doctor's appointments, you need to know exactly what to look for.
What is Alzheimer's Assisted Living and what does it offer?
Alzheimer's assisted living is a type of housing for elderly residents who have Alzheimer's or Dementia. The staff undergoes special training in order to specifically work with Alzheimer's and Dementia patients.
Alzheimer's assisted living facilities offer:
A safe and stable environment for your loved one
A secured facility to ensure your loved one does not leave the establishment
A specialized staff that can deal with difficult situations and behaviors, such as wandering
Activities for each person living in the facility, structured to reflect their daily routines that they established during their life
Medical and personal care
Regimented dining schedules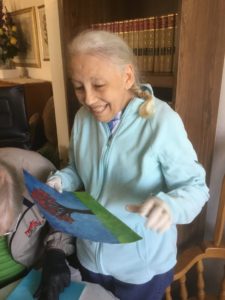 Why choose Alzheimer's Assisted Living?
One of the most important benefits of Alzheimer's assisted living is knowing your loved one is in good hands and their quality of their life isn't reduced due to their condition. This may be an even bigger concern if your loved one suffers from memory loss. Naturally, you want to find a San Diego memory care facility that has the knowledge and compassion to work with people who are suffering from Alzheimer's disease.
At a specialized Alzheimer's assisted living facility that has years of experience with memory loss patients, you can be assured that your loved one will be attended to by trained professionals who understand the needs of an Alzheimer's disease patient.
Finding the right San Diego Alzheimer's Assisted Living Facility
If you decide that an Alzheimer's assisted living is the right choice for your loved one, start by making a list of the facilities that you want to visit. These resources might help you find some:
The Choose Well San Diego website has a list of facilities in San Diego County that you can sort with a lot of different ways, like license, city, zip code and capacity.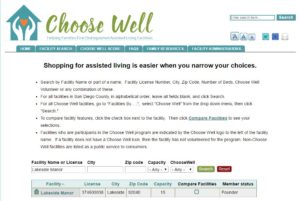 Conduct a search on Google using keywords like "dementia care facilities San Diego."

You can also find information by consulting friends and neighbors.
Keep in mind; all these facilities are licensed and regulated by each state.
Make sure all Alzheimer's assisted living facilities in San Diego on your list are licensed.
Finding out more about the facilities
After you decide on a few Alzheimer's assisted living facilities you are comfortable with, call them and ask a few general questions about their facilities. Ask about the programs they offer for their seniors, how willing they are to accommodate dietary restrictions, what are the residents' most popular activities and other questions that will help you get a better feel for the environment.
If you are still interested in the facility after the call, ask for some information to be mailed to you, such as brochures, a price list, map and the rights and rules of the residents. Don't forget to ask about any documents that will need to be signed upon admittance and of course, the contract. You need to review them on your own time before you sign anything.
After you receive all the materials, review them carefully and write down your questions or concerns. Strike out the places that don't meet your criteria.
If your loved one can choose for herself or himself, make sure to include them in the process.
Visiting a San Diego Alzheimer's Assisted Living Facility
Now, you have a list of the places you want to visit, so book appointments for tours. Make sure to take your loved one with you so they can take part in the decision process.
Have your questions and the material that was sent to you in hand and make sure to get as much information as you can from the tour.
Your first visit is important
When you get there, a guide will show you around the facility, explaining the programs the offer and how your loved one will benefit from their stay there. Keep in mind that the person talking to you is an employee and their job is to turn you into a customer.
Ask to meet other members of the staff and a few residents as well. When you talk to them, pay attention to their body language, if they are happy and comfortable working or living there. Find out how long the staff members have been working in this facility. Long-term employees are unlikely to be unhappy or bad at their jobs. Ask the residents how they feel about the place, what they do for entertainment and if they like the staff.
Apart from asking questions, pay attention to how people behave when they think you are not looking. If someone told you that they are happy in this facility but when you turned around their facial expression said otherwise, you should reconsider.
Also, check if the facility is clean and tidy. Are there any weird smells? Is the building well maintained? Are the staff's uniforms clean? What about the residents? They should be clean, without emitting any bad odors and, most importantly, look (and be) well cared for.
Make sure to pay them one more unannounced visit after a few days. You may find out important information by making that second visit.
How you feel is important too
Asking questions and noticing behaviors is crucial in deciding on a facility, but it's very important to bring your own feelings into this decision.
Be aware of how you feel when you are on the facility's premises; do you feel comfortable, is this really a safe place for your loved one? Trust your gut–it's usually right.
Aarp.org has a very helpful checklist you might want to print out and take with you.
Deciding on a facility and signing the contract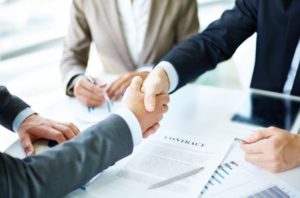 After visiting the facilities, reviewing all the information you received and having your questions answered, choosing your favorite memory care facility in San Diego is the most important step. The contract you will sign is the legal document that states what kind of care will be provided to your loved one, regardless of what was promised verbally or mentioned in the brochures. Make sure everything you want is written down; the more details, the better. Compare the information you received before with what is in the contract and pay close attention to fees, services provided and discharge policies.
Tips
Make sure you understand what the contract says. Ask questions and get answers before signing anything.
Ask about anything not included and make the changes you want.
Don't sign the contract until you see everything you want in it.
Take the contract with you and review it with other family members and make sure to consult a lawyer.
The cost of a San Diego Alzheimer's Assisted  Living Facility
Paying for a high-quality Alzheimer's assisted living center can be quite costly. Before you decide on searching for a facility for your loved one, make sure that you (or them) can afford it long-term. Expect that you might need to pay for extra services as needed and don't forget that the price might go up due to the increase of the standard cost-of-living.
At Lakeside Manor, our San Diego Alzheimer's Assisted Living Facility offers a caring, nurturing environment for our residents. Take a look at our testimonials and contact us for more information and a chance to see for yourself! Our staff will be happy to answer any questions or needs you might have.